1000 Industry Guides in one place
DIA Keeps Parking Up to Speed
Automated Cash Delivery System Installed at Airport's New Parking Access Plazas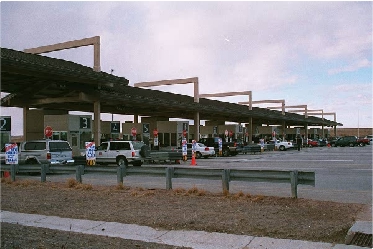 One of the busiest airports in the Western Hemisphere, Denver International Airport (DIA) relies on automated systems to be one of the most efficient and "flier friendly" facilities of its kind in the world.
More than 3.8 million visitors came through the airport in 1999.  Approximately 8 million vehicles enter the airport each year, an average of 22,000 vehicles per day.   All automobiles entering and existing DIA pass through one central, 21-booth Parking Access Plaza located two miles from the main terminal.
Beginning the summer of 2000, the Parking Access Plaza will disappear.  In its place will be four new parking access plazas located near the main terminal at exits from the multi-level garages and long-term parking lots.  A 16-booth plaza for the West Parking Garage and a 12-booth plaza for the East Parking Garage are under construction. Two 4-booth plazas will serve the two long-term, outside parking lots.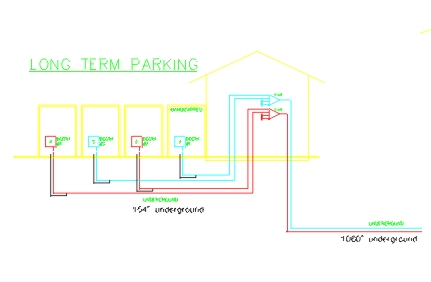 Long Term Parking, Riser Diagram
According to Stephen P. Sholler, airport parking manager, the new parking arrangement is designed to reduce operational costs, improve efficiency and reduce congestion.  Improved vehicle traffic flow throughout the airport will be one of the major benefits of the new plaza arrangement at DIA. 
Central to the operational efficiency of the new parking plazas is the use of pneumatic tube systems for cash handling.  These systems are manufactured and installed by Denver-based Swisslog Translogic.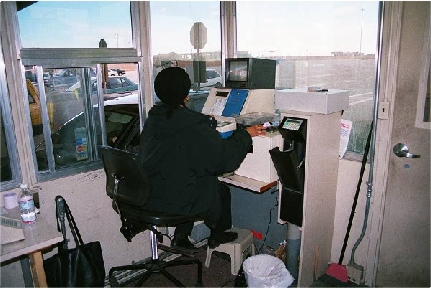 Cashiers Booth
The pneumatic tube system is a high-speed transport network of carriers that are transported through galvanized steel tubing by air vacuum/pressure at speeds of 1,500 feet per minute. The system utilizes both four-inch and six-inch carriers.  A four-inch carrier (3.25" x 15") carries items weighting up to 6.5 lbs., and the six-inch carrier (4.5" x 15") transports items weighting up to 15 lbs.
The system will be used for rapidly transporting cash from cashier stations to satellite buildings for counting and sorting, and then transported to a central cash vault.  Each parking cashier booth will have a dispatch station that will transport carriers to the cash handling locations.  Carriers will be returned to the booths when emptied.
A major construction effort, the system requires thousands of feet of underground tubing between parking cashier booths, cash handling satellite buildings and vault sites.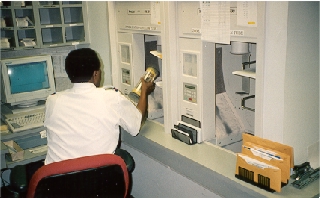 Central Cashiers Station in Vault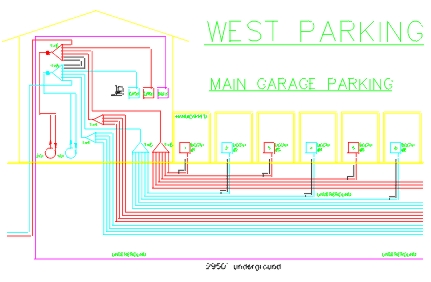 Main Garage Parking Plaza, Riser Diagram

The major benefits of the pneumatic tube system will be increased cash security, reduced cash accumulation in booths, safety, reduced manual transport of cash, and increased productivity and efficiency.  "The new configuration will also enable us to provide better customer service," he added.

 

            DIA selected Swisslog Translogic based on the success of the pneumatic tube system they installed three years ago in the central Access Plaza.  As DIA moves its parking operations from the central Access Plaza closer to the airport parking areas, it will be able to reuse many components of the original system.

According to Sholler, the system proved very reliable.  In fact, the system had no more than one malfunction per year.  "It was secure, fast and reduced the number of personnel required for cash handling," he added.

            The original Translogic system enabled DIA to reduce the number of armed personnel required on site, many of whom were off-duty police officers.  It also reduced the work of supervisors who had to transport money by hand.

"We like the pneumatic tube system for its speed, reliability and security," Sholler added.  "The new system will increase the speed of transactions while providing greater security."

Swisslog Translogic has installed other pneumatic tube systems at DIA.  These include a ten-inch-diameter aircraft parts distribution system and a four-inch-diameter passenger ticketing system for United Airlines.  The company has installed more than 30 systems in domestic and international airports for parking revenue collection, ticketing revenue collection, and aircraft parts from stores to flight line and hangers. 

A worldwide company, Swisslog Translogic specializes in light-load unit materials conveying systems including pneumatic tube systems, track vehicle systems, vertical conveying systems and automatic-guided vehicle systems.

#  #  #

For additional information you can click on www.translogic-corp.com or send an e-mail to jbarber@translogic-corp.com.